Otley and the Yorkshire Dales
Afraid I have not got too far with this section, so at the moment it is rather rudimentary. My intention is to grow it into a sort of local scrap book, but at the moment I have only put together a few photos and some local links. Give me time...


This image is a panorama of Otley, looking down on the town from the Chevin hilltop.


December 18th 1999 the new Otley cross goes up on the top of the Chevin, on the skyline above the town. A long standing Easter tradition, 1999 saw a new cross erected for the first time to welcome the new millennium.

The Chevin is now a park, a wonderful place to visit in any season. The Rose Bay Willow Herb was photographed last summer, on a sunny weekend.

Below is our path into town (called Green Lane) - 5 minutes walk to the river bridge and into the town centre. Do you get a feel for why I find this such a great place to live ?
Do feel free to e-mail me if you want to ask any questions - I'll do my best to help.

---
There is now an official Otley Site, albeit in its early stages of development
The Ilkley pages are a well developed set of pages of local information and activities
Leeds City Council runs a fair site, with a wide range of local information (including an Otley page)
Bradford City has a lot to offer. This takes you to the official city site. There is more information on this University based site.
A here is good private site with details of places of interest.
One of the best places in Bradford is the National Museum of Film, Photography and Television.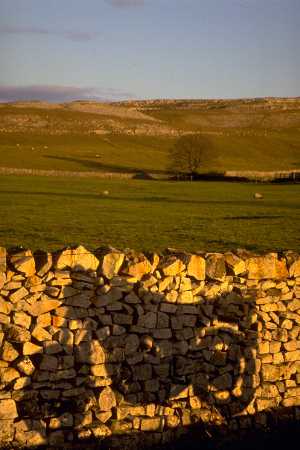 Here is a picture taken in upper Wharfedale, in the limestone country near Malham, on a great day for a ride out ! If you want to find out more about my biking, then follow the link below it.
more on Mark's bikes
back to my home