A Laverda in the USA
The story of a journey I made in 1988, when I took my Laverda over to Canada and the USA and spent four weeks touring, from Toronto to New Orleans and back via Delaware, Iowa, Arkansas, North Carolina and places in between.

At the moment this is in a transient phase. I've got the text of the story up here, but I've yet to add the illustrations. That's because I'm not sure where the photos have gone and I don't (yet) have a film scanner to work from the original slides. But once I'm sorted, this will be a fully illustrated story.

Split into a number of chapters, and web pages:

This page -

1. In the Beginning

2. Exodus

3. Arrival

4. A Small Problem

5. On The Road

Page US_west

6. R & R

7. White Line Fever

Page US_rally

8. At the rally

Page US_south

9. Heading South

Page US_back

10. New Orleans

11. Parting for Home

12. Blue Ridge and Niagara

13. Toronto, and on to Home
Return to my home page
Return to my biking page

---
1. In The Beginning
It was December. It was grey. It was miserable. However, the postman had been benevolent enough to deliver the latest copy of "La Vera Vista". (the Laverda owners club magazine), so there was some relief for the dull evening.

Turning the pages, after brushing away the biscuit crumbs, I found an interesting announcement. "All Italian Motorcycle Rally. Iowa City, Iowa, June 14 - 16, 1988."

A dangerous (read, "expensive") idea insinuated itself into my mind. Iowa in June would be hot. It might even be dry. Where's the atlas.... Iowa ?

Later, over a pint of Timothy Taylor's, I informed the World of my idea. "I'm going to an Italian bike rally next summer, in the States. And if I can I'm going on the Laverda". Yeah, I could tell the World was really impressed.

"I'll show them. This man knows the difference between fantasy and reality" (effects: hollow laughter)
2. Exodus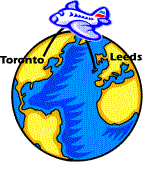 June 5th dawned clear and blue. The luggage was packed, the bike nearly drained of juice. It had to be delivered to the airport (Leeds-Bradford, only 4 miles from home) between 8 and 9. Playing it cool, I arrived at 8.45.

The man from Servisair was expecting me. "A Laverda" he said. "I'm a Ducati man myself". This was going to be OK, the bike was in caring hands.

Having left it for him to prepare I wandered round to the terminal, discovered I could check in (it was nearly 5 hours to departure), so got myself a window non smoker. Hand baggage only - overnight stuff plus my helmet. This is the way to travel transatlantic.

I then phoned my neighbour, who came and fetched me home, enabling me pick up my mail, have a coffee etc, before ferrying me back to head for the sky. I was also hoping for a message on my answering machine: and there it was. My accommodation for the night was fixed! The message was from a friend, saying it was sorted out for me to stay with the brother of a friend of his, right in Toronto.

The flight was on time, uneventful, the food good.
3. Arrival
When we landed, at about 5.30pm, it was overcast, warm, very muggy. I rapidly cleared the personal formalities and set off to find the bike. Outside the terminal building there was a traffic jam. Although this was my first transatlantic trip, it had a strange feeling of familiarity. The cars were different, on the wrong side of the road, and yet it seemed so much like home. It was an odd feeling.

Round at Customs, the woman dealing with me asked for the bike's licence document.

Well, it's better to get a holiday's problems out of the way at the beginning isn't it. I had been so quietly confident when I left home, that I had got together everything I needed, and if I had forgotten anything - well, I was going to civilised countries, I would be able to buy it. The licence document. Hm.

However, despite appearances, she was obviously a kindly soul, and accepted the combination of insurance certificate (showing UK address) and return ticket for bike as evidence that it probably was mine and that I was planning to take it home again. She then called Wardair cargo to come & get me, so that I could get the right cargo documents, come and give them to her then go back to cargo again and finally get the bike.

As the Wardair driver ferried me back to cargo the first drops of rain hit the screen.

The ride into Toronto was pretty warm inside the waterproofs but otherwise uneventful. After discovering that there were two Alexander Streets in Toronto, that Toronto public phones work and that my hosts were in, I followed the new set of directions to the right one. It turned out to be a 16th floor apartment in a 29 floor block, just off Yonge Street, the main street in Toronto. The bike was parked on the second floor down of a gigantic underground car park, which served that block and its two neighbours.

Matt and John proved to be excellent hosts, rapidly thrusting a cold beer into my hand. After a couple more, and given that my body thought it was now sometime after 4 am, it seemed about time for some sleep.

I have this theory that to avoid jet-lag you just stay awake until normal bedtime at wherever you are. You then go to sleep, wake up at normal time the next day, and there you go. Surprisingly, it seems to work.
4. A Small Problem
At about 10 the next morning I pointed the Laverda down Yonge Street and towards the USA. We made it about a mile.

The bike felt flat, and when I had trouble out-accelerating a truck I decided it was time to stop and investigate. I reasoned that if help was to find me the best place to be was beside the busiest road in the centre of town, so I stopped where I was.

There was no spark on the centre cylinder, so set about trying to trace the cause, looking for something like a bad connection. Before long there was a group of interested, sympathetic, but not actually helpful bystanders around. At one point a loose wire raised false hopes, soon dashed. Then a 40ish executive type walked by, and came over to see what the problem was.

He introduced himself by saying that he had 6 Ducatis (!), gave me his card (real estate - explains it) and wrote on it the number of McBride Cycle, the one-time Toronto Laverda agents. While we were talking a friend of his came by, a man who only had 2 Ducatis, but he said "Give him Larry Strung's number". Which was how I came to meet my saviour.

I could not get hold of Larry Strung, so took the bike round to McBrides, There we eventually traced the problem to the CDI unit. They contacted the Canadian Laverda spares importer, who did have one. $850. I said "Let me get in touch with this guy Larry"

Fortunately my hosts were more than happy to have me stay another night or two, so I made my way back to the flat.

That evening we contacted Larry, who turned out to be the man in Toronto who Fixes Laverdas. As well as owning 6, including a 750 SFC on which he won the Canadian "Classic Sportbike" championship (similar to Battle of the Twins) in 1986, and a genuine, original American Eagle 750.

He was able to provide me with a second hand CDI unit, which I took over to McBride and fitted the next day. Bingo. 3 cylinders again, McBride said there was no charge, as they had not really done anything to fix the bike, so off I rode. As soon as I hit 3,000 the bike stopped revving so it was another night's stay and back to Larry's,

He said there was only one thing for it, and took the unit off his own 3CL, When that worked fine he told me to leave it in place and return it when I passed back through Toronto. Now that is what you call a friend in need.
5. On the Road
The following morning I set off again. Because of the delay, plans to visit New York were abandoned, and instead I was heading directly for expatriate friends in Delaware, a journey of about 600 miles. On the way I planned to stop the night in the area of Ithaca in "upstate" New York, which was roughly half way, and recommended by my guidebook "Lets Go USA".

Once my rampant paranoia about how the bike was going proved misplaced, it was an easy journey dawn to the US border. I chose not to pass through Niagara Falls, but cross further north, After my reception From Canadian customs I had expected the Spanish Inquisition here, but a couple of questions and I was through. In the USA. On my bike. Dreams can come true.

Within a mile or so of the border I saw my first traffic patrol. He was hiding an the central reservation (wide, with no barriers), behind the pillars of a bridge. You didn't see him until you were past. I was glad that I had decided to take it easy until I sussed how things were done.

The day was pretty cold - definitely not what I had been expecting - and after stopping for lunch at an "Arby's" (sliced beef in a bun instead of burgers) I needed to put on all the layers I had to keep warm. I fairly soon left the main highway and was travelling along ordinary, lightly trafficked roads through rolling farmland. Villages and towns you would never mistake for England, but in between the main thing that told me I was in a strange country was the dead racoons at the roadside ?

When I reached Ithaca the youth hostel that I had been intending to stay at was completely deserted. I called a hotel, but they told me that it was alumni week, so every room in the town was occupied by students' families. My first night in the USA was to be under canvas.

I pitched the tent in a state park campground a few miles south of the town, next to a friendly local called Randy (honestly!), he had a good blaze going in the Fireplace which comes with every pitch, and soon boiled water for a cup of tea. It turned out that he lived and worked in Ithaca, but that he was into the natural life and was camping here in the state park for his 2 weeks (unpaid) summer holiday.

Talking to a warden, he said that the forecast was far the temperature to drop to freezing that night. I was equipped for camping, but on the assumption that it was going to be hot. I didn't even have a pullover with me! Even the short run into Ithaca to find a place to eat was chilling.

I parked the Laverda next to a local RZ350 Yamaha and on returning found the owner chatting with a policeman, who it turned out was a Gold Wing owner, even though well into his fifties I would say. When they heard that I was camping they were really worried about the cold, and if I had not insisted that I would be OK I am sure the policeman would have found someone to put me up. He was apologetic about not being able to accommodate me himself!

On returning I warmed myself at the fire before hitting the sack. By wearing or laying over or under me just about every garment that I had I survived the night, although the middle of it was disturbed by racoons going through some of Randy's bags which were an the table between our tents.

After breakfasting on pancakes, bacon and maple syrup at a diner on the strip into Ithaca I walked with Randy along a trail from the campsite up a very picturesque river valley with many waterfalls to a second state park. He was a very capable guide, pointing out a snake which I certainly would not have seen, and expertly investigating a tallish spiky leafed plant, which proved uninteresting. It was mid afternoon by the time I hit the highway, still dry but cool.

Now I aimed as quickly as possible to pick up the Pennsylvania Turnpike, which was going to be the quickest way to my destination. Having heard that the speed limit had been raised to 65 on Interstate highways, I was disappointed to find the limit on the turnpike was 55. However it turned out that plenty of traffic travelled at 70 or a bit over, so I just tagged along a little way behind the fastest moving thing that came past me.

Clearly the sign declaring that speed was checked from the air and the one showing a policeman with a radar gun, complete with tariff ($52.50 for 55-60, then $10 per 5mph), are not entirely effective deterrents.

It proved comfortably possible to put over 60 miles into an hour. I reached my destination about at 9.30, and was delighted to be greeted by a warm house and a cold beer, in that order. I told Norman that this was not the sort of weather that I had escaped from Britain for.

---
next page